Posted on Friday, January 6th, 2017 by Dr. Robert Mack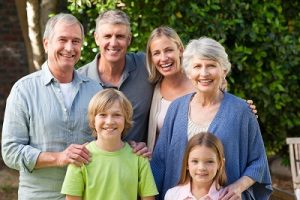 Many people don't know it but their genes play an important role in their eye health. In this blog post, the trusted ophthalmologists at the Mack Eye Center give their insights on the importance of family eye health.
Some Eye Diseases are Hereditary
According to research, genetics play a role in many eye conditions, from common vision problems (e.g., refractive errors) to more serious conditions that can lead to blindness (e.g., glaucoma). Cataracts is another eye condition that can be hereditary. In fact, some babies are born with a rare form of the disease called congenital cataracts. Knowing your family's eye health can help you identify symptoms of these conditions early on. When diagnosed early, many of them are correctable or treatable.
Eye Health Is Linked to Overall Health
Your family's medical history is also important to your eye health. Many systemic diseases such as diabetes can lead to vision problems and conditions including cataracts. People with a family history of diabetes have a higher risk of developing diabetes — and the vision problems that come with it — themselves.
Be Proactive about Your Eye Health
Although nothing can be done to change your genes, there are several ways you can reduce your risk of developing eye problems. Maintaining a stable weight by eating a well-balanced diet and exercising can keep your eyes healthy. Research shows overexposure to ultraviolet light can lead to vision problems. We recommend wearing sunglasses whenever outside, even during cloudy weather. We also recommend you quit (or don't start) smoking as it is detrimental to both your overall and eye health.
If you have a family history of eye problems, the trusted ophthalmologists at the Mack Eye Center encourage you stay on top of your eye health by scheduling a comprehensive eye exam. We recommend you come in to your eye exam fully prepared — with the details of your and your family's medical and eye health histories in-hand. If it turns out you have inherited eye health issues, Mack Eye Center will work with you to create a personalized treatment plan, which may include LASIK or laser cataract surgery.
Contact the Mack Eye Center, Serving the Chicago and Hoffman Estates Areas
To schedule your appointment, please call the Mack Eye Center at (847) 755-9393 348-8067.