Posted on Saturday, March 5th, 2022 by Dr. Robert Mack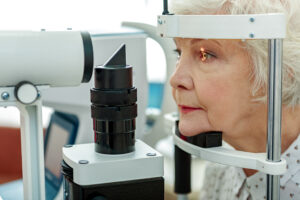 After a certain age, cataracts may seem inevitable. By age 80, more than half of Americans have them, but they can start decades earlier. Since cataracts usually develop slowly, many people do not notice the initial effects of this clouding of the lens. As time passes, these changes become more pronounced, and vision is affected. The doctors at Mack Eye Center discuss the changes that come with cataracts.
Halos and Glare
Seeing halos around lights is an early sign of cataracts. The same holds true if lights in general seem much brighter, giving off glare. That occurs because the cloudiness of the lens doesn't allow light to pass through the way it once did.
Halos appear most often in dark or dim light. Glare is more frequent during the day. Bright sunlight may cause sensitivity. Glare can affect depth perception and cause other visual impairments.
Less Color Brightness
Do colors appear faded? Does lighting appear brighter, yet the opposite is true when it comes to colors?
Cataracts cause the lens to develop a brownish or yellowish coloration. The visual field is overlaid with these browning or yellowing, making colors harder to distinguish. Visual sharpness also declines. Foggy vision becomes common.
Night Vision Changes
Many older drivers notice their night vision isn't what it used to be and hesitate to drive after dark. Cataracts are a huge driver of night vision changes. The clouding of the lenses makes seeing at night more difficult. Glare, this time from oncoming headlights, also affects vision.
More Light
Do you need more light to accomplish the same tasks? Whether it is reading, sewing, writing, or other activities requiring good lighting, you may find over time that you must work closer to the lighting source or use higher wattage bulbs to see properly.
Dealing With Cataracts
In the early stages, dealing with cataracts may include changing eyeglass or contact lens prescriptions more often. Wearing sunglasses whenever outdoors reduces glare. Improved lighting makes a considerable difference.
Since smoking and alcohol consumption can worsen cataracts, not using tobacco or alcohol is a wise idea.
At some point, when vision is significantly affected, cataract surgery may prove necessary.  Don't let cataracts interfere with your quality of life.
During surgery, the cloudy lens is removed and replaced with an artificial lens implant. Cataract removal is one of the most frequently performed operations in the country, with an excellent success rate.
Contact Us
If you would like more information about cataracts and treatment options, contact Mack Eye Center today and schedule a consultation.