Mark Dikopf, M.D.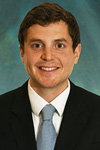 Dr. Mark Dikopf was born and raised in the Chicago suburbs and graduated with honors from the combined undergraduate and medical school program through the University of Illinois College of Medicine. He completed his residency in ophthalmology at the University of Illinois Eye and Ear Infirmary, where he was selected as a chief resident in his final year of training. He developed a passion for glaucoma during residency and subsequently completed a postgraduate glaucoma fellowship at the University of Illinois Eye and Ear Infirmary.
Dr. Mark Dikopf has been active in ophthalmologic research during his career and has published many peer-reviewed articles, as well as presented research at national conferences. He has also held the title of clinical instructor for both University of Illinois at Chicago and Chicago Medical School. Dr. Mark Dikopf is board certified by the American Board of Ophthalmology, and he is an active member of the American Academy of Ophthalmology, American Glaucoma Society, Chicago Ophthalmologic Society, Chicago Glaucoma Society, and Illinois Society of Eye Physicians and Surgeons.
In addition to providing up to date evidence based medical and surgical glaucoma care, Dr. Mark Dikopf also specializes in cataract surgery and provides routine eye exams, preventive eye-care health, and treats all medical eye conditions. Dr. Mark Dikopf values getting to know his patients and educating them on their eye conditions. He aims to provide optimal eyecare by making an individualized treatment plan based on a patient's general health and lifestyle. Most importantly, he treats all of his patients with the utmost respect and care.